German-based Evonta was one of the finalists of Aqua Nor Innovation Award with a fully automatic device for non-contact and non-destructive testing of salmon and trout eggs.
The applied measuring method - Optical Coherence Tomography (OCT) - allows the capturing of high-resolution tomographic image data/3D volume data of the inner of the eggs within a matter of seconds. Besides fertilization testing, a detailed classification of egg status and size as well as 120ddg testing is possible.
In commercial salmon farming, the fish roe is artificially fertilized and stored in special containers for incubation. After 24-48 hours, a few eggs are randomly selected and treated with diluted acetic acid to increase their transparency. Subsequently, the eggs are examined under a light microscope to determine the fertilization rate.
Until now, the inspection has been done manually and is heavily dependent on the individual experience and knowledge of the operator. The testing procedure is comparatively time-consuming and the number of eggs to be tested is limited. Therefore, statistically reliable statements are difficult. Additionally, structural changes, caused by treatment with acetic acid, can lead to interpretation errors in the microscopic evaluation.
"We wanted to develop a fully automatic measuring system working independently of the individual skills of staff to enable a non-invasive acquisition of reliable data. Our development will make testing of salmon and trout eggs easier," explained Björn Fischer, CEO and director science & technology at Evonta, to Hatchery Feed & Management.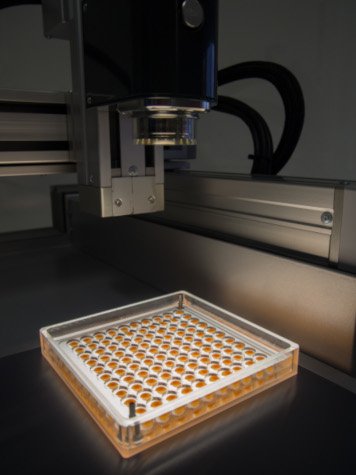 EVONTA®-MF200se is the first commercially available device for fully automatic testing and diagnostics of fish eggs. The acquired data allows detailed classification of eggs which has great potential for quality management in egg production. "In combination with our optional EVTnet database, any number of devices from the same or different locations worldwide can be connected to our server via internet to collect and analyze data and monitor system status (predictive maintenance)," Fischer explained.
It will deliver reliable, statistically relevant data on fish eggs from different breeds and origins under different conditions. This opens up new possibilities and delivers new findings, important for advanced egg production.
"We are independent from the experience and knowledge of the operator. Even the loading and unloading of the system can be done automatically. The systems are parallelizable which allows very high throughput," Fischer stated.
The product is modular and its flexible combinable hardware components can easily adapt to other processes.