With demand softening and El Niño driving fishmeal prices higher, the second half of 2023 is expected to be the most challenging period for global aquaculture since the peak of the pandemic in 2020, according to Rabobank's latest aquaculture report.
Salmon prices have largely returned to more normal levels after 2022's peak, but remain relatively high. Soft demand driven by inflation in the US and Europe continues, with salmon appearing better placed than shrimp. The slump in shrimp demand may even get worse in the second half of 2023 as Chinese demand moderates.
Salmon to remain highly profitable
In the third quarter, salmon supply will return to growth after nearly two years of contraction. According to Gorjan Nikolik, senior global seafood specialist at Rabobank, "the salmon industry, in terms of profitability, had one of the best periods ever recorded in the first half of 2023, driven by record prices. The industry will remain highly profitable in the second half of 2023 despite more normalized prices, as salmon is currently competitively priced relative to alternatives."
Still, there are challenges. Unfortunately for Norwegian producers, a 25% resource tax was voted into law and will impact the industry until at least 2025, when an election could bring a new government coalition and policy.
"Another possible challenge for the industry in the second half of 2023 will be a shortage of sustainably certified fishmeal and fish oil," said Nikolik. "Increased use of vegetable oils and novel alternatives like algal oils could be a partial solution."
A tough year for the shrimp industry
The shrimp industry faced a very challenging first half of 2023. Prices continued to fall due to soft demand from the West and high supply from Ecuador. China imported record amounts of shrimp as importers anticipated pent-up demand, but demand is not recovering from the pandemic as fast as expected, resulting in low protein prices and high inventories.
"The Asian shrimp industry in particular is facing a challenging period of record-low prices due to oversupply caused by Ecuadorian growth," explained Nikolik. "Persistently low prices and high costs have made shrimp farming unprofitable. Weaker-than-expected Chinese demand and supply growth from Ecuador means a sizable supply correction in Asia is needed to balance the market."
Ecuadorian producers can also expect a difficult rest of the year, not only due to weaker Chinese demand expectations but also the risk of El Niño bringing heavy rains and possible flooding. This should temper the record supply growth Ecuador has had so far in 2023.
Fishmeal and fish oil supply shortage ahead
Fishmeal and especially fish oil producers enjoyed record prices due to good demand and the high prices of alternatives in the first half of the year when supply was relatively good.
Aquafeed prices will continue to be supported through the end of the year due to a scarcity of fishmeal and fish oil. Notably, El Niño conditions caused the cancellation of the first fishing season in Peru creating the potential for an acute supply shortage. Nikolik also noted that "Peruvian fishmeal and oil have sustainability certifications. Buyers seeking alternatives will not be able to find them, impacting sustainability commitments of the entire aquaculture value chain."
In 2014, the last time a fishing season was canceled in Peru, the fishery recovered rapidly and the subsequent season had both a high quota and catch rate. The resulting supply recovery also normalized fishmeal prices to levels seen before the cancellation. "Fishmeal and fish oil demand seem robust for now, but high prices as supply contracts will force rationing and substitution for many aquaculture producers," said Nikolik.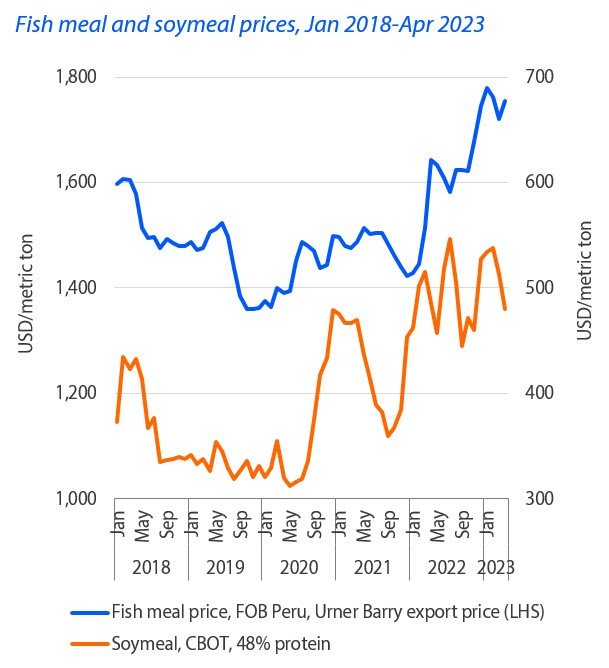 Credits: Rabobank